| | | |
| --- | --- | --- |
| | 2011 Lotus Exige S260 Final Edition | |
Exige page 1 Exige page 2 Exige page 3 Exige page 4 Exige page 5 Exige page 6
Exige page 7 Exige page 8 Exige page 9 Exige page 10 Exige page 11 Exige page 12
Exige page 13 Exige page 14 Exige page 15 Exige page 16 Exige page 17 Exige page 18
Exige page 19 Exige page 20 Exige page 21 Exige page 22 Exige page 23 Exige page 24
Exige page 25 Exige page 26 Exige page 27 Exige page 28 Exige page 29 Exige page 30
VIN : SCCLHHAC7BHA12388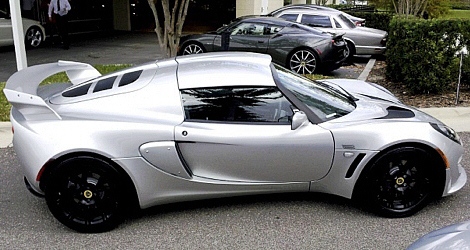 Page 2
February 15, 2012
The logo signs from Thor Zollinger JAVELIN ART arrived and they look great. I asked him to make two more as I plan to give these to a friend as gifts. I will have to post some pictures when the second set arrive.
March 10, 2012
My son and I decided to go out for a ride. I let him drive the car. As we came to a stop sign he slowed down and stopped the car. All of a sudden we noticed that the lady driver behind us had gotten out of her car and she was on the driver side. She had a big smile on her face. I was wondering what was going on and I told my son to put the window down and then I heard her. What a nice car... this is a gorgeous car... Where did you get this from? I looked at her and smiled and said thank you. From Orlando. :-)

March 11, 2012
My son and I decided to go out again as the weather was sunny. After a bit my son said let's take off the roof. It is a bit early in the season, but I could not wait longer. We went back to the garage, got the tool bag, and we took the roof off. Wow. The car looked great. The weather was a bit cold, but not in the car. We went for a nice refreshing drive. Once we got back, we got the old soft-top from the Elise and installed it. I must say that the car looked nice with the black top.
March 20, 2012
Today my wife and I decided to drive to Winchester to meet up with someone to buy a soft indoor cover for the car. The weather was beautiful, so we took the back country roads. After we saw the cover and I purchased it, we headed into old town. It was nice and quiet since it was a weekday. We found street parking and as my wife was trying to figure out the parking meter, the parking meter man showed up looking at the car. After a few minutes of him admiring the car, he started to chit-chat with my wife about the number of quarters needed while I was installing the soft top. When I was done, I locked up the car and shook hands with him and started to go towards old town. My wife turned to me and said, "did you see what just happened?" I said, "no, I was locking up the car." She said that she only had three quarters and each quarter gave us 30 min. Since we were short the parking meter man unlocked the meter and took the three quarters out so she could re insert them to get a total of three hours of parking.

This is something I would have never expected to happen - I guess we're not in DC anymore.

April 11, 2012
Today I decided to order a pair of carbon fiber side scoops from Fast Toys Performance. These did not include the mesh so I had to order them as an option.
April 23, 2012
The carbon fiber side scoops and the mesh arrived today and they look great. I have to wait for a dry day so I can test fit them and glue the mesh.
April 25, 2012
It was a nice day today so I decided to go home early and test fit the scoops. After test fitting I noticed that the mesh needed to be modified a bit as the interior section was a bit too wide. I had to cut away a bit of the mesh so it would fit correctly.
I used Permatex Ultra Black to secure the mesh to the scoops.
The mesh seems to be a bit wider than the original mesh so I will add a strip of rubber black tape where it may touch the body.
April 26, 2012
The silicone had cured so I installed side scoops. They look great. THX Fast Toys
April 26, 2012

It was a very nice day today. The weather was about 70 degrees and the sun was out. I decided to go to Baltimore to have lunch with my daughter. I cleaned the car and took the top off. There was no traffic on 495 or 95 North. I like the drive from Northern Virginia to Baltimore and back but I don't like to drive in Baltimore city. Roads are real bad and it is always under construction. I usually have to get off at Martin Luther King Jr. Blvd. and it is one the bumpiest roads in Baltimore for a Lotus - it is like driving while dodging bullets.

I picked up my daughter from her school and we went to the Inner Harbor for lunch. We found an outdoor parking lot to park the car that was close to the water and the restaurants. We pulled in and we found a parking space - no one could park to my left so I parked the car at an angle to be safe.

The parking attendant came over and said, "you can't park like this." I asked why? He said that this is usually for valet parking. I said but no one is doing valet today. He just did not want me to park the car sideways. I explained to him that there was not enough space to the left of the car for any car to park even if I park it straight and I just don't want anyone hitting the car. He said okay and left. As we were getting the top out of the trunk out of the back, he came back and asked us, "what is this?" I said, "a Lotus." Then he asked, "what kind of a car is this?" I said, "it is a Lotus." He said, "Oh, who is it made by?" I said, "Lotus" with a smile and he smiled back…

We had lunch and we had a great time. We started to drive back to her school and we came to a stop. Traffic was bad. All of a sudden, a 12 or 13 year-old kid showed up in the middle of traffic, out of nowhere, with a squeegee. I raised my hand and told him "do not touch the car - THX, it is clean." My daughter asked me, where did he come from? The kid asked if I had some change and I told him sorry I do not have any change on me. He left and we did not see him again.

I dropped off my daughter and started to head back to Virginia. The top was off, the weather was beautiful and everything was just perfect and all of a sudden, Splash. I noticed the passenger side windshield. It was covered with bird droppings - the same side that the kid wanted to clean.
It made me upset for a moment and then I thought - well at least it was NOT on the seat or better yet on my head


I did not have anything in the car to clean the windshield so I drove on.

I was driving towards 95S on Martin Luther King Jr. Blvd. This road is full of guys walking around asking for money for all sorts of things like water, flowers (some maybe are homeless?) and I was hoping to get all green lights to 95S, so I could miss them. I missed it by one light. I was the third car in the middle lane. This guy walks towards my car with a sign and started a conversation.

Him: How about you let me drive this around the block a few times.
Me: I looked at him with a smile and said I don't think so.
Him: He smiled back and asked, what is this? Is it a Lotus?
ME: yes.
Him: How fast will it go?
Me: About 150
Him: How fast have you done on it?
Me: Fast enough with a smile.
Him: Oh this is so quiet.
Me: The engine is in the back and I am not trying to make noise. I am not planning to get any tickets today



The light turned green and he said have a nice day and I said take care. The rest of the ride home was excellent...
May 13, 2012

Mothers day - My wife and I went out for an early ride to get some breakfast. On our way we had to pay the toll. As we approach the toll plaza, the attendant looked at the car and said "Wow, nice Ferrari." I was going to let him know that this was a Lotus but the line behind me was too long and I just said "Many THX" and drove away.
May 17, 2012

It was time for an oil change. 1,480 miles. I took the car to EuroMotorcars Lotus and saw Jamie Gershowitz. I had the oil and filter from the old car so I took that with me and had them install the F-103 Regular Valve http://www.quickoildrainvalve.com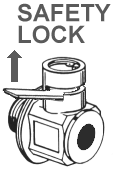 June 4, 2012

The CF wing arrived. It looks great.
Tested the new wing.
June 6, 2012

I just registered to go to to the 2012 EuroSport Tour DC . My son will be with me so we should have a great day. I hope to see Valentino Balboni and some nice cars

7:30 am to 8:30 am – Event Registration
Ferrari of Washington – 45235 Towlern Place, Sterling, VA 20166
9:00 am – Valentino Balboni Presentation on the new Lamborghini Aventador
A continental breakfast will be served at the shop
10:30 am – EuroSport Tour
Open up your engines for a 3.5 hour run through the Maryland and Virginia Countryside
1:30 pm - Destination Concours
After an exhilarating drive, we arrive at Seneca Creek State Park in Gaithersburg, MD for lunch and the People's Choice Award Ceremony.
1:30 pm - BBQ Lunch
3:00 pm – People's Choice Awards Ceremony