| | | |
| --- | --- | --- |
| | 2011 Lotus Exige S260 Final Edition | |
Exige page 1 Exige page 2 Exige page 3 Exige page 4 Exige page 5 Exige page 6
Exige page 7 Exige page 8 Exige page 9 Exige page 10 Exige page 11 Exige page 12
Exige page 13 Exige page 14 Exige page 15 Exige page 16 Exige page 17 Exige page 18
Exige page 19 Exige page 20 Exige page 21 Exige page 22 Exige page 23 Exige page 24
Exige page 25 Exige page 26 Exige page 27 Exige page 28 Exige page 29 Exige page 30
VIN : SCCLHHAC7BHA12388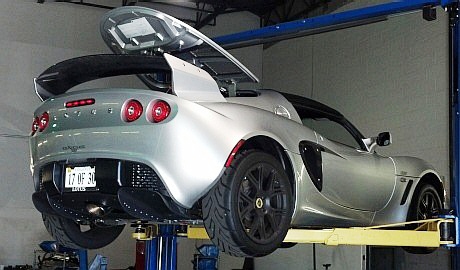 Page 5
September 26, 2012
The glue was set so I installed the intercooler shroud.
September 30, 2012
My wife and I met up with everyone for a Rally thru the Shenandoah Valley. Great day and great group.
October 2, 2012
Ordered Chimera "Competition Battery System" CBS with a 5 year warranty.

October 4, 2012
The LED light arrived from Anthony so I took the car to RRT Racing today to help me replace the vanes and install the horn.
October 10, 2012
Today I decided to upgrade the Airbox with the CUP airbox.

October 10, 2012
I called Shinoo at Sector 111 and ordered QWKcans

PDF
October 14, 2012
Rally thru the Shenandoah Valley - What a nice day!
October 16, 2012
I took the car to RRT for track day inspection. They also installed the Sector 111 QWKcans. We had to modify/cut the RLS heat shield to accommodate the fittings and also to make QWKcans accessible and removable.
Before Need to Cut After
October 18, 2012
HPDE (High Performance Drivers Education) Track Day at NJMP. It was the perfect day; cool weather and great bunch of drivers from all over. This was my first track day so I had to spend time with the instructors. They were great in teaching and instructing. It is amazing how much you can learn when you have good instructors. This event was put together by Sports and Specialist Cars and Ed Sanson did an amazing job.
Charlie Greenhaus from http://www.imgracing.com was great. During the classes his comments and explanations were great tools.
I hope they are able to do this event more often. We were able to do six 30 min sessions around the Thunderbolt Raceway and each session got to be more exiting than the last one.


PDF
Thunderbolt Raceway - 2.25 miles, 14 challenging turns
October 19, 2012
When I was driving off the track I noticed that I was having difficulty shifting into neutral. I ordered the clutch pipe from Sector111 to resolve this issue.

I also ordered a full set of HID Kit from http://www.motivemods.com .
October 25, 2012
There will be a member event at NJMP on Saturday, October 27, 2012. I just registered. Lightning Raceway - this will be a bit shorter but it should help me to improve my skills.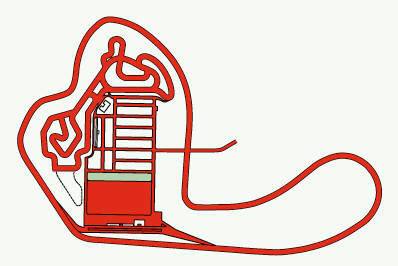 PDF
Lightning Raceway - 1.9 miles, 10 corner circuit
October 27, 2012
We just got back from NJMP. Don showed us around and we were able to meet other members at the club house. I think I like the Thunderbolt Raceway better.
Something went wrong with the engine. After going around the lightbulb turn the engine started to choke and shake. Speed was low and the RPM was way below 7000 . The three lights (tell-tale lights) came on all of a sudden --one after the other. I eased of the gas immediately . The engine settled but a bit later some flapping noise started and that was the end. The engine stalled and it would not start again. Camshaft timing error was showing on the reader but we were not going fast enough. There must have been some internal part failure. I asked TJ at the track if he could store the car until it could be taken to the Lotus dealer nearby. Hurricane Sandy was on it's way and I had no way of towing the car back to Virginia or to a dealer nearby.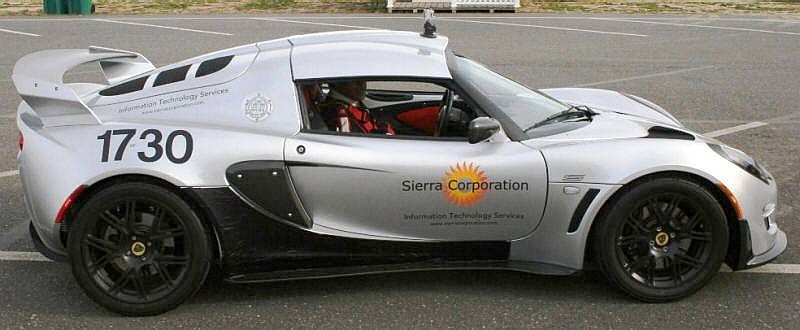 November 6, 2012
Season is almost over and I am trying to see if I can make it to VIR by the 24th...

November 7, 2012
The car was taken to Sports and Specialist Cars, Inc. today after the storm. They looked at it and said that they have to contact Lotus. It is not good. It seems that the car will be in the shop for awhile.

November 20, 2012
After a long wait Lotus came back and they are going to replace the engine. This is great news, as I was worried about fixing the engine. No one has been able to let me know what is actually wrong with it. They did a performance reading. They are saying that the engine was revving too high, but beside that one time, I never saw the three red lights come on and I am sure the engine RPM indicator never passed 7000. It must be a sensor issue. They were suggesting to have a baffled oil pan--I told them that the car already has one. They were more puzzled. I will be going to NJ on the 23rd to see if I can figure out what went wrong.
November 27, 2012
So after more investigation it seems that one of the rod bearings on the crankshaft failed by overheating or breaking. I need to install an Accusump Oil Accumulator. I have to buy the OEM so my warranty is not affected.