| | | |
| --- | --- | --- |
| | 2011 Lotus Exige S260 Final Edition | |
Exige page 1 Exige page 2 Exige page 3 Exige page 4 Exige page 5 Exige page 6
Exige page 7 Exige page 8 Exige page 9 Exige page 10 Exige page 11 Exige page 12
Exige page 13 Exige page 14 Exige page 15 Exige page 16 Exige page 17 Exige page 18
Exige page 19 Exige page 20 Exige page 21 Exige page 22 Exige page 23 Exige page 24
Exige page 25 Exige page 26 Exige page 27 Exige page 28 Exige page 29 Exige page 30
VIN : SCCLHHAC7BHA12388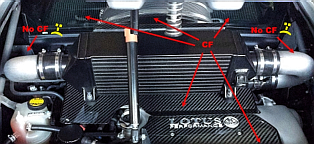 Page 21
January 10, 2015
I was able to change the intercooler tubes today with the carbon fiber ones.

OEM:
Long Tube = 3.0247422 lbs.
Short Tube = 1.4594602 lbs.

Total: 4.4842024 lbs

HKFEVER:
Long Tube = 0.5511557 lbs.
Short Tube = 0.2866009 lbs

Total: 0.8377566 lbs

Total reduction of 3.6464458 lbs
February 6, 2015
We returned from our long trip. I think we covered about 3,500 miles. COTA was a bit of disappointment the first day. The weather was cloudy and cold. To top everything after my second run it started to rain heavy. Next day it was like day and night. The big track got smaller and smaller as tires were sticking better. It was a blast and I must make it back again.
February 18, 2015
Rotors and brake pads are due for change. It is amazing that this will be the 1st rear pad change as well as front and rear rotor/disc change. I am glad that the car is light...
I just ordered the following from British Racing Group, LLC/ Lotus Garage
A120J4003F - Disc, single piece, front, 308mm dia. LH
A120J4004F - Disc, single piece, front, 308mm dia. RH
A120J0051S - Brake Pad Set, front, Ferodo DS25HP, 14.5mm thick
C117J0031F - Brake Disc, cross drilled (rear)
A120J6014F - Brake Pad Set, rear, Ferodo DS25HP
BRG-BWR1065 - Wheel Spacers (set of 4x .190"/ 4.8mm) - For the new Hoosier R7s
March 12, 2015
Changed the brake pads (front and rear) at 11,306 miles. Amazingly the rotors are still good and more than 25 mm left.
March 14, 2015
I will be going to VIR with Chin Motorsports. The event is on 3/16 and 3/17. No rain and the weather will be in the 60s....
All locked, loaded and ready to go...

March 18, 2015
I returned from VIR late last night. It was a great event and beautiful weather. I was able to improve my time even though the tries are done and rotors need changing.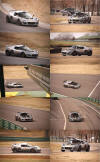 Click to view larger!