| | | |
| --- | --- | --- |
| | 2011 Lotus Exige S260 Final Edition | |
Exige page 1 Exige page 2 Exige page 3 Exige page 4 Exige page 5 Exige page 6
Exige page 7 Exige page 8 Exige page 9 Exige page 10 Exige page 11 Exige page 12
Exige page 13 Exige page 14 Exige page 15 Exige page 16 Exige page 17 Exige page 18
Exige page 19 Exige page 20 Exige page 21 Exige page 22 Exige page 23 Exige page 24
Exige page 25 Exige page 26 Exige page 27 Exige page 28 Exige page 29 Exige page 30
VIN : SCCLHHAC7BHA12388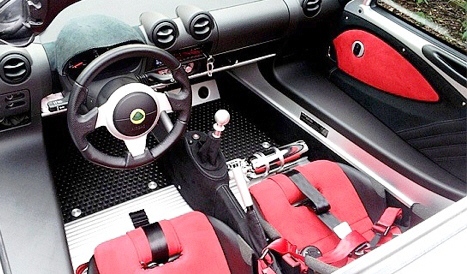 Page 4
August 7, 2012
Removed the old Instrument Cowling and installed the new Instrument Cowling. Also installed the driver's side sill pocket.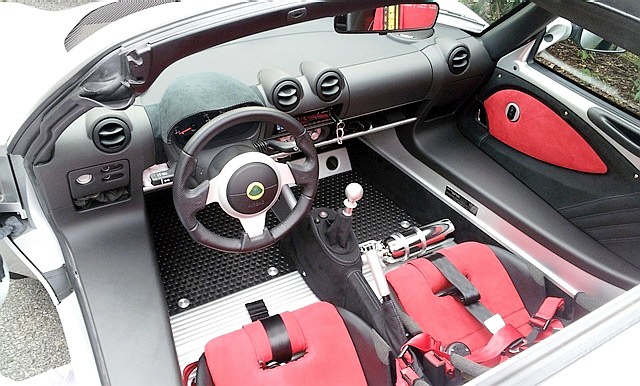 August 8, 2012
Ordered the MWR Lift Point Kit and Heat Shield -
August 14, 2012
I called Reverie and ordered the CF spark plug cover--it should complement the CF Heat Shield.

August 22, 23, 2012
I received the oil cap, MWR Lift Point Kit and CF spark plug cover, so I installed them. Very easy install. I used the emblem from http://www.chuforiagraffix.com
August 24, 2012
I received some of the CF parts from Charles today. He also made a CF mud flap that I think looks very nice. I will post some pictures when I start to do the installation.
August 29, 2012
I ordered a complete racing suit from Stand 21 - Head to toe

September 4, 2012
I received an email from Charles. The front lip was shipped and I should receive it tomorrow or the day after.
September 5, 2012
The front lip arrived and I installed it today.

September 7, 2012
I took my car to RRT Racing today to help me with installing some of the CF parts and the gPAN3. Real nice guys.
September 12, 2012
I went to RRT Racing today to see if they were done. Oil and filter was changed since they had to take out the oil pan (current mileage: 2601). They have installed all the CF parts and it seems that the car is about 5 lbs lighter than before.
September 16, 2012
My wife and I decided to drive to Summit Point Motorsports Park to check out the track. It was a very nice day and got even better when one of the instructors let me know that we could go on the track and follow one of the instructor's during the "Parade Lap". That was fun. Later the same instructor, Matt, let me ride with him racing his own car. We went on for about 20 min and it was great. Later he even took my wife for few laps. I am glad we were able to get on the track and talk to few of the instructors. Now I have do do some scheduling.
I also got to tryout my GoPro.
September 23, 2012
Today was the second Annual Fall GYLO - Get Your Lotus Out - My wife and I decided to participate. It started a bit chilly but later it became a nice autumn day.
September 25, 2012
Shipment from Charles arrived and I worked on the vane covers and replaced the Intercooler Shroud. The vanes needed some modification and cutting, but overall they look nice.
I had to take out the intercooler to install the shroud. Unfortunately, I had to cut the OEM intercooler shroud into pieces in order to replace it. The OEM was glued.
The glue needs to dry overnight.